Sweet tooth? We've got the dessert for you, with these yummy eclairs with a fruity twist.
Blackberry & White Chocolate Eclairs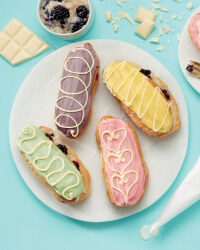 Recipe Information
Ingredients
For the pastry shells
150g Plain Flour
250ml Water
100g Unsalted Butter
4 Eggs
1 tsp Sugar
1 tsp Salt
For the filling
310ml Whole Milk
200g Granulated Sugar
3 Egg Yolks
4 tbsp Plain Flour
1 tsp Vanilla Extract
100g Blackberries, chopped
To decorate
100g White Chocolate
Pink, Blue, Green and Yellow Food Colouring
1 tsp Rapeseed oil (if needed)
Method
Pre-heat the oven to 200°C/Fan 180°C/Gas Mark 6 and dust a baking sheet with a little flour.
To make the pastry shells, combine the butter and water in a pan and heat until just before scalding point.
Quickly whisk in the flour, sugar and salt, stirring until the mixture pulls away from the sides of the pan.
Leave to cool before gradually whisking in the beaten egg, bit by bit.
Transfer the pastry mix to a piping bag. Pipe 12 eclairs onto the baking sheet.
Bake in the oven for 20-25 minutes.
Transfer the eclairs to a wire rack to cool. Poke a small hole in each one to remove any steam.
For the filling, gently warm the milk in a pan.
In a separate bowl, whisk together the flour, egg yolks and sugar.
Add half of the warm milk to the egg mixture and stir.
Pour the egg mixture back into the pan with the remaining milk and heat until thick.
Stir in the vanilla extract and leave to cool completely.
Halve each pastry shell and fill with the custard and a scattering of blackberries.
Melt the white chocolate in a heatproof bowl suspended over a pan of simmering water.
Decant the chocolate into 3 separate bowls, adding a couple of drops of food colouring to each one.
If the chocolate seems thick, stir in a teaspoon of rapeseed oil to loosen.
Spoon the colourful chocolate over the eclairs and leave to set completely before serving.