Blueberry Porridge Breakfast Bowl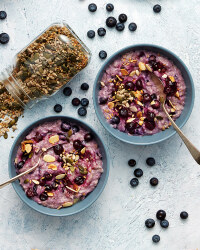 Recipe Information
Ingredients
Porridge:
40g Porridge Oats
220ml Almond Drink
75g Blueberries
Toppings:
Blueberries + additional berries such as strawberries etc.
1 tbsp. Almond Butter
1 tbsp. Flaked Almonds
1 tsp. Seed Mix
1 tbsp. Specially Selected Maple Syrup
Method
Place the oats, milk and blueberries into a saucepan and bring to a boil then simmer for 5 minutes until thickened.
As the blueberries cook squash them to incorporate into the porridge.
Pour the porridge into your bowl and then add the toppings listed above.
Serve warm.