Blueberry Salad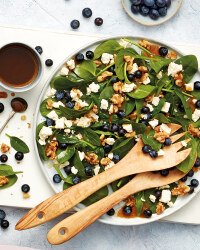 Recipe Information
Ingredients
Salad:
75g Blueberries
150g Baby Spinach (washed)
100g Greek Feta (crumbled)
50g Walnuts (roughly chopped)
Vinaigrette:
3 tbsp. Olive Oil
2 tbsp. Balsamic Vinegar
1 tsp. Squeezy Honey
1 tsp. Dijon Mustard
Pinch of salt and pepper
Method
Place the spinach, blueberries, feta and walnuts in a large bowl.
In a small bowl whisk together the oil, balsamic vinegar, honey, salt, pepper and mustard.
Drizzle the vinaigrette over the salad and toss together then serve.