Blueberry Salsa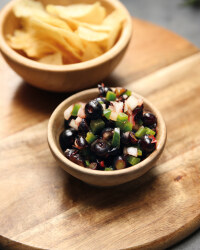 Recipe Information
Ingredients
300g Blueberries
1 x Red Chilli – approx. 12g
Juice from 1 Lime
1 x Small Green Pepper
25g Finely Chopped Red Onion
½ tsp Paprika
5g Fresh Coriander
Sea Salt and Black Pepper
Method
Keep back 50g of the blueberries and chop the rest.
Put the chopped and whole blueberries into a bowl.
Add the lime juice, paprika and chopped red onion.
Cut the pepper in half, discard any seeds and white pith and chop finely.
Cut the red chilli in half lengthways – if you prefer a mild salsa, discard the seeds – otherwise, finely chop.
Add the chopped pepper and chilli to the salsa.
Chop the coriander and add to the salsa, season with a little salt and pepper and mix well.
Keep refrigerated ready to serve, this salsa is a great accompaniment to cheese and charcuterie.