Delicious Christmassy apple cake
Bonfire Apple Cake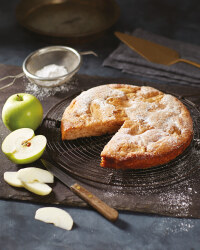 Recipe Information
Ingredients
180g The Pantry Plain Flour
150g The Pantry Caster Sugar
3/4 tsp The Pantry Baking Powder
1 tsp Stonemill Ground Cinnamon
1/4 tsp Salt
120ml Solesta Sunflower Oil
4 tbsp Water
2 tsp The Pantry Vanilla Essence
1 tbsp Lemon Juice
3 Granny Smith Apples
Icing Sugar to serve
Method
Pre-heat oven to 180°C/350°F/Gas Mark 4.
Grease and line a 23cm/9" round cake tin with baking paper.
Peel, core and thinly slice the apples and arrange 3/4 of them over the base of the baking tin.
In a large bowl, mix together the flour, sugar, baking powder, cinnamon and salt.
Mix together the oil, water, vanilla and lemon juice and then add to the dry ingredients.
Mix with a large spoon until just combined and you have a thick batter.
Fold in the remaining apples.
Carefully spoon the mixture into the tin and level with the back of the spoon.
Bake for 40-45 minutes until the centre is set and the cake is lightly browned.
Once cooled, turn the cake onto a serving plate so that the apple slices are on the top.
Dust with icing sugar and serve.