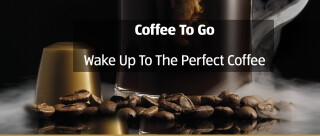 New automatic coffee machine at Aldi
Enjoy delicious coffee at home or on the go. The Coffee to Go Machine has all the features you need for an instant fix and is perfect for your morning commute with a portable stainless steel mug included. Our high-quality coffee machine includes a one-touch operation switch with a light indicator, as well as 2-in-1 functionality, so you can brew with both ground coffee and soft coffee pods. This coffee machine also has a permanent filter and a 24-hour programmable timer with a sleek blue backlight and it even shuts off automatically – giving you peace of mind if you leave the house in a hurry.
Just brew and go!
Whether you prefer to use ground coffee or soft coffee pods, this coffee machine makes it for you. Just flick the one touch switch and you'll soon be enjoying a serving of fresh, filtered coffee whenever you need it most.
Clever features to make your coffee amazing
A lot goes into making the perfect coffee maker. Take a look at some of the smart features you can look forward to in your new Coffee to Go Machine.
Stainless Steel Travel Mug

Portable travel mug included for morning commutes to work and university.
24 Hour Programmable Timer

Get ahead of the morning rush and have your coffee waiting in the morning.
2-in-1 to brew ground coffee and soft coffee pod

The coffee maker is compatible with coffee grounds and soft coffee pods.
Auto Shut Off

This smart auto shut off feature helps you save energy and money.
Reusable Coffee Filter

A permanent coffee filter to make cleaning and maintenance even easier.
One Touch Operation Switch

An easy to use one touch switch