The ultimate savoury brioche, bursting with Parma Ham, Mozzarella and Basil.
Brioche with Parma Ham, Mozzarella & Basil Recipe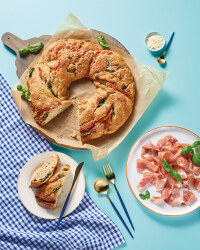 Recipe Information
Ingredients
500g Strong Wholemeal Bread Flour
10g Salt
10g Yeast
170ml tepid Full Fat Milk
4 Eggs
256g Unsalted Butter
10 Slices Parma Ham
3x Balls of Mozzarella
Handful of Basil Leaves
1x Egg, beaten for glazing
Grated Parmesan for topping
Method
Pour flour into a large bowl, add salt to one side of the bowl and the yeast at the other.
Add milk and eggs and then mix using a whisk.
Add the butter bit by bit over the next 5 minutes.
Pop into a well-oiled bowl, cover with cling film and leave to rest for roughly one hour or until doubled in size.
Tip onto a lightly floured surface and roll into a rectangle approximately 1cm thick. Don't knock the dough back as you need to keep the air in.
Place the Parma ham, mozzarella torn into pieces and then the basil.
Roll into a sausage along the longer side.
Cut along the whole length of the sausage to reveal the filling.
Grab each end and twist your hands in opposite directions plaiting the 2 parts together into 1 complete twist.
Form into a ring shape firmly pressing the ends together.
Place onto a lined baking sheet and place in a large plastic bag.
Seal and leave to prove for 1 hour.
Preheat the oven to 200°C/180 Fan/Gas Mark 5.
Brush with egg glaze and top with Parmesan.
Bake for 25 mins or until golden brown.
Cool slightly and enjoy warm or cold.