British Flavoured Gin Tasting Pack
Product Ref: 085785232458400
Product Information
By law we cannot sell this product to anyone under 18
A great way to discover a new favourite is to try one of these miniature premium quality gins in this tasting selection. They also make great gifts if you're feeling generous.
The British Flavoured Gin Tasting Experience includes:
Gordon's Pink Gin 5cl 37.5% ABV
Balances the refreshing taste of Gordon's with sweet raspberries and strawberries and the tanginess of redcurrants.
JJ Whitley Elderflower 5cl 38.6% ABV
The sweetness is dominated by the tang of elderflower with hints of grassiness, orange blossom and honey.
Greenalls Wild Berry Gin 5cl 37.5% ABV
Juicy blackberry and raspberry notes are balanced with juniper and spice for a smooth taste, with peppery after tones.
Edinburgh Gin Rhubarb & Ginger Liquer 5cl 20% ABV
Rhubarb and oriental ginger create a lively, sweet liqueur with a sharpness and spiciness and a warm finish.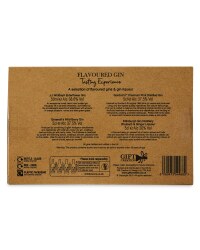 ABV:

20% - 38.6%

Bottle Size:

5cl

Type:

Gin

Units Per Serving:

1-1.19