Scotch quarter pounders with a delectably rich mushroom cream sauce. Served with vegetable chips to enhance the rustic feel.
Burgers with Mushroom Cream Sauce and Vegetable Chips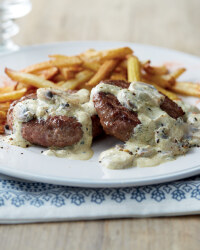 Recipe Information
Ingredients
2 x 454g packs Specially Selected Scotch Quarter Pounders
150g White Mushrooms
200g pack Lighter Soft Cheese with Garlic and Herbs
25g Butter
20ml Specially Selected Olive Oil
30ml White Wine or Chicken Stock
300g Salad Potatoes
135g pack Baby Corn
150ml Sunflower Oil
Paprika
Sea Salt and Black Pepper
Find your ingredients online on Click & Collect or find your nearest store using our Store Finder.
Method
Trim, wipe, halve and slice the mushrooms.
Sauté them in a frying pan with the butter and olive oil for a couple of minutes.
Add the soft cheese and white wine or stock, then cook gently until the cheese has melted.
Season with some black pepper and put to one side while you cook the burgers and vegetables.
Slice the baby corn in half lengthways and cut the potatoes into thin chips.
Put them in a heatproof bowl, cover them with boiling water and leave for 10 minutes.
Drain and pat dry.
Heat the sunflower oil in a large frying pan or wok.
Cook the potato chips and sweetcorn in the oil for about 6 minutes, stirring as you go.
Once cooked, drain well and sprinkle with the paprika, a little sea salt and some black pepper.
Meanwhile either grill, griddle or BBQ the burgers.
Gently heat through the sauce.
Serve the burgers topped with the mushroom sauce, alongside the potato and corn chips.