Grilled spiced aubergine served with homemade turmeric and lime yoghurt dip.
Burnt Aubergine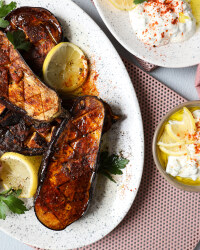 Recipe Information
Ingredients
4 Aubergines, cut in half
1tbsp Cumin
1 tsp Smoked paprika
1 Lime, juiced
100ml Olive oil
For the cucumber yoghurt:
1 Cucumber, diced small
100ml Soya yoghurt
1 Lime, juiced and zested
Parsley, a few sprigs, fresh
Method
Score your aubergines using a sharp knife, making at least a 1cm insert.
Generously cover the top of the aubergines in olive oil then top with the spices.
Grill skin side down at least 80% of the way before turning and finishing off flesh side down.
Mix your cucumber, turmeric, yoghurt and lime together in a bowl. Finish with the parsley and season to taste.