Made with fresh butternut squash, chickpeas and fragrant paprika, this is a tasty vegetarian meal.
Butternut Squash & Chickpea Chilli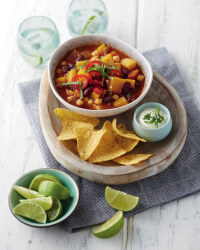 Recipe Information
Ingredients
1 Butternut Squash
400g tin Sweet Harvest Chickpeas
400g tin Sweet Harvest Red Kidney Beans
400g tin Sweet Harvest Chopped Tomatoes with Herbs
1 large Red Onion
5 cloves Garlic
1 large Red Chilli
1 large Green Chilli
2 Quixo Vegetable Stock Cubes
500ml Boling Water
1 heaped tsp Stonemill Paprika
35ml Rapeseed Oil
10g Fresh Basil leaves, chopped
Method
Peel, halve and chop the red onion into small chunks.
Peel and halve the butternut squash lengthways.
Remove any pith and seeds and chop into small chunks.
Peel and finely dice the garlic.
Chop the chillies finely with the seeds.
Heat the oil in a large saucepan.
Add the red onion and garlic and sauté for a few minutes to soften.
Add the chilli and butternut squash and cook, stirring for another 4 minutes.
Add the tinned tomatoes, paprika, boiling water and crumble over the stock cubes.
Cover and bring to the boil, simmer for 15 minutes.
Drain the chickpeas and red kidney beans.
Add them both to the pan.
Heat through and serve topped with the chopped basil.