Wrap up in pretty packaging and spoil everyone with some festive homemade Candy Cane Brittle.
Candy Cane Brittle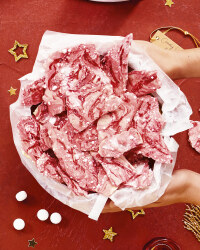 Recipe Information
Ingredients
200g Madagascan Vanilla Chocolate
1 tsp Red Food Colouring
1 tsp Vegetable/Olive Oil (if needed)
50g Mint Imperials, crushed
Method
Gently heat the chocolate in a bowl suspended over a pan of simmering water.
When the chocolate has fully melted, remove the bowl from the pan and spoon half of the chocolate into a separate bowl.
Set aside one bowl of chocolate and stir the red food colouring into the other.
If either chocolate begins to stiffen or seize, whisk in a little oil to loosen.
Pour the set aside chocolate onto a large sheet of greaseproof paper.
Drop random spoons of the red chocolate over the top before running a skewer or fork through the mixture to create a marbled candy cane effect.
Sprinkle with the crushed mint imperials and leave to cool completely.
When the chocolate has set, break it up into shards before bagging or boxing it up to give as an edible gift.
Enjoy within 5 days.