Zesty pastry filled with frangipane and decorated with caramelised apricots and cream.
Caramel Apricot Pastry Pie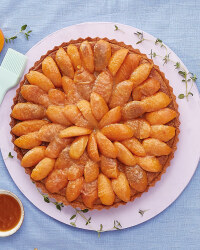 Recipe Information
Ingredients
For the pastry
250g Pain Flour
1 Egg Yolk
125g Cold Butter
2 tbsp Caster Sugar
3 tbsp Cold Water
Pinch of Salt
Zest of ½ Orange (optional)
Vanilla Extract (optional)
For the filling
160g Butter (room temperature)
160g Caster Sugar
160g Ground Almonds
2 Eggs
2 tbsp Plain Flour
1 tsp Almond/Vanilla Extract
For the caramel apricots
600g Fresh Apricots, stoned and quartered
120g Cold Butter, cubed
200g Caster Sugar
Method
To make the pastry, put the flour, salt and zest in the bowl of a stand mixer. Mix the butter and flour with the beater attachment until it resembles fine breadcrumbs. Add the yolk and extract (if using) and mix again. Add 3 tablespoons of ice cold water, one at a time, while mixing until it forms a dough. Wrap the dough in clingfilm and cool in the fridge for a minimum of 20 minutes or preferably overnight.
Once chilled, roll the pastry in a circle to the thickness of a pound coin. Carefully place the rolled pastry into a 10 inch loose-bottomed, fluted tart tin and work into the crevices. Cut off the excess and chill in the fridge for 1 hour.
Pre-heat the oven to 180° Fan/Gas Mark 6.
In the meantime, make your frangipane filling by creaming together the butter and sugar until pale and twice the original size. Add the eggs one at a time, then the almonds and extract. Gradually mix in the flour until it forms a thick paste.
Remove the pastry case from the fridge and evenly spread the frangipane filling on the bottom.
Bake the tart in the oven for 40-50 minutes until the case is golden brown.
While the tart cooks, make your caramel apricots. Start by placing the caster sugar in a large pan and let it melt over a medium heat for 5-7 minutes until a rich, amber colour. Remove from the heat and stir in the cold butter. Add the apricot quarters and cover in the caramel. Cook on a low heat for 10 minutes until sticky. Allow to cool fully.
Once the tart and the apricots have chilled, arrange the apricots in a spiral on top of the frangipane. Finish with any caramel residue from the pan and serve with a dollop of fresh cream or ice cream.