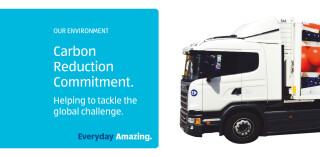 We've reduced our carbon footprint by over 30% since 2012.
Carbon emissions are often seen as an inevitable part of business, but we're helping tackle this global challenge head-on in a number of ways, including becoming more energy efficient, switching to green electricity and using more environmentally friendly refrigeration.
We monitor our refrigeration units closely to ensure they operate efficiently and greenhouse gas emissions remain as low as possible. We have also increased the amount of stores using heat we recover from our fridges, chillers and freezers to 36% in the UK, and 39% in Ireland, thus reducing energy consumption and carbon emissions.
You'll be pleased to know we have converted all of our chiller cabinets and cold rooms running on a refrigerant with a Global Warming Potential (GWP) of 3,780 to a much lower GWP of 1,824. A huge achievement. And in 2015, we began a 3-year programme to replace our chest freezers running on a refrigerant with a GWP of 3,780 for models running on a GWP of 3.
Reducing our fuel consumption is a major factor in how we minimise our carbon footprint. We're doing this in 3 key ways:
• Using lighter vehicles with more fuel-efficient tyres and improved aerodynamics
• Investing in the latest fuel management systems
• Using tracking software to create the most efficient route plans
Aldi stores and distribution centres have a very low water footprint because our water usage is limited mostly to staff welfare facilities.
We monitor store water usage regularly, and stores that use more water than average are surveyed to establish a root cause, prompting collaboration with the Store Operations team or local councils if necessary.