Simple, overnight Greek yoghurt bark made with leftover cereal.
Cereal Yoghurt Bark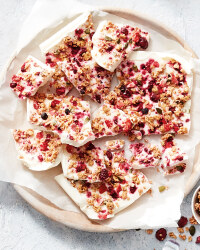 Recipe Information
Ingredients
500g Greek Yoghurt
70g Leftover Cereal (such as berry muesli or granola)
Method
Line a shallow baking tin with non-stick baking paper.
Spoon 500g of the Greek yoghurt into the base of the tin.
Sprinkle the cereal over the Greek yoghurt and freeze for 6 hours.
Remove from the freezer, break into pieces and serve.