The classic combo of cheese and onion works great in these savoury sharing snacks.
Cheese & Onion Muffins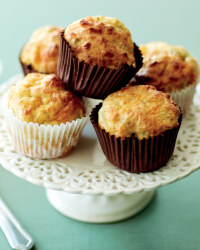 Recipe Information
Ingredients
140g British Mature Cheddar
240ml Semi Skimmed Milk
2 Eggs, beaten
75g Melted Butter, cooled
280g Self Raising Flour
5 Spring Onions, chopped
1 teaspoon Stonemills Mixed Herbs
Salt and Black Pepper
Find your ingredients online on Click & Collect or find your nearest store using our Store Finder.
Method
Preheat the oven to 190oC/ 350oF/Gas Mark 5 Line a muffin tin with 10 cases.
Grate the cheese.
Mix the milk, eggs and melted butter together and beat well.
Sift in the flour and mix until just combined - don't over mix.
Stir in the grated cheese, chopped spring onions and mixed herbs and seasonings.
Spoon the mixture into the muffin cases.
Bake until risen and browned - about 15 minutes.
Serve warm, preferably with Bramwells tomato and chilli chutney.