This deliciously healthy soda bread recipe is brilliant for any aspiring baker.
Cheesy Squash Damper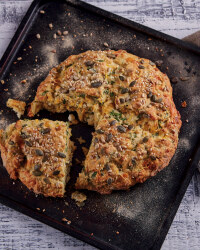 Recipe Information
Ingredients
300g The Pantry Self Raising Flour
25g Greenvale Salted Butter
110g Butternut Squash, grated
60g Mature Cheddar Cheese, grated
100g Feta Cheese
50g Spinach Leaves
200ml Brooklea Natural Yogurt
50ml Milk
35g The Foodie Market Crunchy Trail Seed Mix
Sea Salt and Black Pepper
A little Milk to glaze
Method
Pre-heat the oven to 200°C/400°F/Gas Mark 6.
Put the flour into a large bowl.
Cut up the butter and rub in with your fingers, as if you were making pastry.
Add the grated Cheddar cheese and the butternut squash.
Thinly slice the spinach leaves and add to the mix.
Crumble the feta cheese and add to the mix.
Season with some salt and black pepper and mix well.
Mix the yogurt and the milk together.
Pour over the flour mix and gently mix into the dry ingredients – turn onto a lightly floured surface and gently need until the dough comes together.
Make into a 20cm disc.
Lightly brush the top with some milk and sprinkle over the seed mix.
Put onto a greased baking sheet and then, with a sharp knife, cut a deep cross on the top.
Bake for 25-30 minutes – until slightly raised and golden – the bread should sound hollow when tapped on the base.
Allow to cool and then serve.