Carrots, nuts and an assortment of spices make up this hearty roast.
Chelsea Roast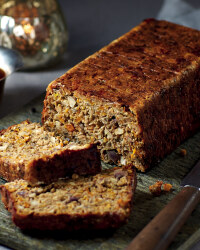 Recipe Information
Ingredients
100g Salted Peanuts
100g The Pantry Hazelnuts
300g Carrots
1 Red Onion
150g Chestnut Mushrooms
3 slices Village Bakery Brown Bread
2 Large Eggs
100g grated Medium Cheddar Cheese
2tsp Stonemill Paprika
2tsp Stonemill Dried Basil
Black Pepper
Method
Pre-heat the oven to 190°C/375°F/Gas Mark 5.
Line the bottom and sides of the loaf tin with some non-stick baking parchment.
Peel and chop the carrot and red onion into small pieces.
Wipe and chop the mushrooms.
Break up the bread into small pieces.
Put the nuts, carrots, onion and bread into a food processor and pulse until finely chopped – do this in two lots if it's too much for the machine.
In a large bowl mix the eggs with the cheese, then add the paprika, dried basil and black pepper.
Pour in the nut mixture and mix well.
Put the mixture into the tin and bake for about 60-70 minutes, until a skewer stuck in the centre comes out clean and the roast feels solid.