A simple yet delicious Mediterranean recipe. Teatime sorted.
Cherry Tomato and Parmigiano Tart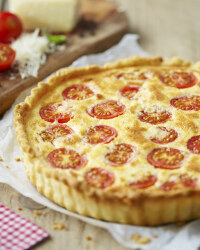 Recipe Information
Ingredients
375g Greenvale Ready Rolled Shortcrust Pastry
250g Cherry Tomatoes
70g Parmigiano
40g Mild Cheddar Cheese
200ml Double Cream
3 Spring Onions
3 Medium Eggs
Half a teaspoon of Stonemill Paprika
Sea Salt and Black Pepper
20cm round loose base fluted tin
1 cup of Rice or Baking Beans
Find your ingredients online on Click & Collect or find your nearest store using our Store Finder.
Method
Pre-heat the oven to 180°C/350°F/Gas Mark 4.
Line the tin with the pastry, prick the bottom with a fork, gently line with some crumpled tin foil and blind bake (using rice or baking beans) for 5 minutes.
Remove the foil and return to the oven for 2 minutes to dry the base.
Grate the cheeses.
Trim, wash and finely chop the spring onions.
Beat the eggs.
Mix the double cream, cheeses, eggs, spring onions and paprika together and season with some salt and black pepper.
Cut the tomatoes in half.
Pour the mixture into the pastry case and arrange the tomatoes on the top.
Bake in the oven for 20 minutes until set and light brown.