Tasty, home-cooked breaded chicken, barbecue-style beans and wedges. Yum!
Chicken, BBQ Beans and Chips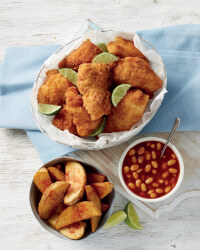 Recipe Information
Ingredients
For the Chicken:
1 medium pack Chicken Breast Fillets
250g Soft Sliced Wholemeal Loaf
4 Eggs
150g Plain Flour
Salt
Pepper
For the Chips:
4 Baking Potatoes
1 tbsp Oil
2 tsp Smoked Paprika
Salt
Pepper
For the BBQ Beans:
420g tin Baked Beans
1 tbsp Kansas BBQ Sauce
1 tsp Smoked Paprika
To serve:
Lime, cut in to segments (optional)
Method
Pre-heat the oven to 180°C/350°F/Gas Mark 4.
Chop the potatoes into wedges. Place on a baking tray, drizzle over the oil and sprinkle over the smoked paprika, then season with salt and pepper.
Bake for 40 minutes until golden and crisp.
Meanwhile, quarter the chicken breasts.
Place the bread into a food processor and blitz to a fine crumb.
Place the flour, eggs and breadcrumbs into 3 separate bowls.
Add salt and pepper to the flour and mix well.
Line a large baking tray with greaseproof paper.
Dip the chicken into the flour, then the egg and then the breadcrumbs.
Place onto the prepared baking tray.
Bake the chicken for 25 minutes, turning halfway through for a crisp, even coating.
Place the beans, BBQ sauce and smoked paprika into a large saucepan.
Heat gently and stir to combine. Once piping hot, the beans are ready to serve.
For a summery feel, garnish the chicken with lime segments.