Succulent chicken breast and fresh peppers: this rustic classic is simple and delicious in equal measure.
Chicken and Pepper Pizza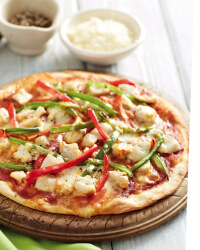 Recipe Information
Ingredients
380g The Pantry Strong Plain Flour
7g sachet The Pantry Dried Yeast
1 tsp Salt
1 tsp The Pantry Caster Sugar
20ml Solesta Olive Oil
250ml Warm Water
100ml Cucina Passata
10g Specially Selected Pesto Genovese
280g (125g drained) Cucina Mozzarella Cheese
50g The Cheese Emporium Grated Cheddar Cheese
Black Pepper
½ Green Pepper
½ Red Pepper
2 Ashfield Farm Chicken Breasts
A little extra Solesta Olive Oil
Method
Preheat the oven to 230°C/450°F/Gas Mark 8.
Put the flour, salt, caster sugar and dried yeast into a bowl - add the warm water and olive oil and mix well - turn out the dough and knead slightly - cut the dough into half and roll each out into a circle about 28cm.
Put onto two baking sheets.
Mix the pesto with the passata - divide the mixture between the two, and spread over the bases.
Chop the chicken breast into small pieces, saute in a little olive oil till just cooked.
Slice the peppers thinly.
Drain the mozzarella and slice thinly.
Divide the mozzarella between the two pizzas, then sprinkle over the sliced peppers, chicken and the grated cheddar cheese - season with black pepper.
Bake in the oven for 8/10 mins till crisp.
Add some other toppings - Solesta black or green olives, shredded chorizo, salami or ham, drained pineapple chunks, torn basil leaves.