Succulent chicken breast and fresh peppers: simple and delicious in equal measure.
Tortilla Chicken Pizzas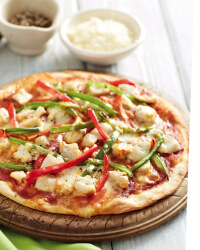 Recipe Information
Ingredients
380g The Pantry Strong Plain Flour
7g sachet The Pantry Dried Yeast
1 tsp Salt
1 tsp The Pantry Caster Sugar
20ml Solesta Olive Oil
250ml Warm Water
100ml Cucina Passata
10g Specially Selected Pesto Genovese
280g (125g drained) Cucina Mozzarella Cheese
50g The Cheese Emporium Grated Cheddar Cheese
Black Pepper
½ Green Pepper
½ Red Pepper
2 Ashfield Farm Chicken Breasts
A little extra Solesta Olive Oil
Method
Turn the oven onto its highest setting.
Thinly slice the chicken breast into strips. Then, heat the oil in a frying pan and sauté the strips for a couple of minutes until just cooked.
In a bowl, mix the passata and pesto, then season with some black pepper. Finely, slice the peppers and chop up the drained mozzarella.
Put the tortillas onto a flat baking sheet and spread with the passata mix. Then, sprinkle over the mozzarella and peppers and divide the chicken strips between them. Lastly, sprinkle over the grated cheddar.
Bake in the oven for 6 minutes, until the bases are crisp, and serve immediately.