Fancy chicken but bored of the same old roast? Don't worry, we've got you covered with this delicious Spanish chicken dish.
Chicken in Spanish Sauce with Rice and Salad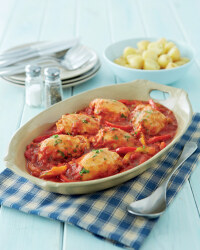 Recipe Information
Ingredients
2 tbsp Solesta Olive Oil
500g pack Fresh British Boneless Chicken Thigh Fillets
250g pack Chestnut Mushrooms
400g Sweet Harvest Chopped Tomatoes
1 tsp Stonemill Garlic Granules
1 tsp Stonemill Dried Oregano
375g Bilash Boil in the Bag Rice
1 pack Cocktail Vine Tomatoes
8 Black Olives
280g jar Antipasti Grilled Peppers in Oil
1 tsp The Pantry Lemon Juice
1 tsp Stonemill Dried Parsley
Freshly Ground Salt and Black Pepper
Method
Pre-heat the oven to 180°C/350°F/Gas Mark 4.
Heat the oil in a frying pan and quickly brown the chicken on all sides.
Drain and place in an ovenproof dish.
Halve or quarter the mushrooms and add to the pan with the garlic, oregano and tinned chopped tomatoes.
Heat gently for 3-4 minutes.
Pour the sauce over the chicken and bake in the oven for around 35-40 minutes.
Meanwhile, cook the rice in lightly salted boiling water for approx. 12-15 minutes then drain.
Whilst the rice is cooking prepare the salad by halving the cocktail vine tomatoes and olives.
Drain the peppers (reserving 1 tbsp oil) and cut into bite sized pieces.
Mix all 3 ingredients together.
To make a dressing whisk together the reserved oil and lemon juice and then add the parsley and seasoning to taste.
Pour over the salad and mix.
Serve the cooked Spanish chicken with the rice and salad.