This classic Mediterranean dish is a great way to bring some Italian flavour to the dinner table.
Chicken Parmigiano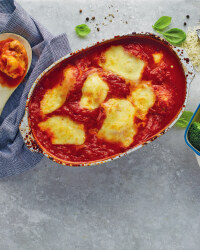 Recipe Information
Ingredients
1 x 540g pack Ashfield Farm Chicken Breasts
1 x 125g pack Mozzarella Cheese
1 x 500g jar Cucina Tomato and Mushroom Sauce
50g Parmigiano Cheese
1 tsp Stonemill Paprika
1 tsp Stonemill Dried Basil
800g Baby New Potatoes
1 head Broccoli
Find your ingredients online on Click & Collect or find your nearest store using our Store Finder.
Method
Pre-heat the oven to 200oC/400oF/Gas Mark 6.
Cut the chicken into big chunks. Finely grate the Parmigiano.
In a bowl, mix the Parmigiano with the dried basil and paprika, then season with some black pepper. Add the chicken chunks and roll in the mixture to coat.
Put the chicken in the bottom of a shallow baking dish. Pour over the tomato and mushroom sauce.
Drain the mozzarella and thinly slice. Place the slices over the tomato sauce.
Bake in the oven for 40 minutes.
Meanwhile, cook the potatoes and broccoli separately in salted boiling water for about 15 minutes for the potatoes and 8 minutes for the broccoli.
Drain and serve alongside the chicken.