These delightfully tasty muffins are a must for any party.
Chocolate, Almond & Orange Cupcakes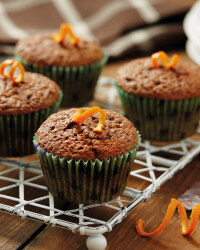 Recipe Information
Ingredients
1 x 125g pack Moser Roth Orange and Almond Chocolate
120g The Pantry Self Raising Flour
25g The Pantry Ground Almonds
125g The Pantry Caster Sugar
½ tsp The Pantry Baking Powder
125g Greenvale Perfect For Baking Spread
3 medium Eggs
20ml Del Rivo Orange Juice
12 The Pantry Paper Cases
1 x 12 hole bun tray
Method
Pre-heat the oven to 170ºC/325ºF/Gass Mark 3.
Line the tin with the paper cases.
Break up the chocolate and put into a small heatproof bowl over a pan of boiling water – make sure the bottom of the bowl does not touch the water.
Heat until the chocolate has melted.
Take the bowl off the pan and allow to cool a little.
Meanwhile, whisk the eggs with the orange juice.
Put the flour, sugar, spread, baking powder and ground almonds in a food processor, add the beaten eggs and process until well blended.
Transfer this mixture to a bowl and gently stir in the melted chocolate.
Divide the mix between the 12 cases. Bake for 20 minutes until slightly risen and just firm to the touch.