A special chocolate lolly biscuit treat they'll love.
Chocolate Biscuits with Chocolate Icing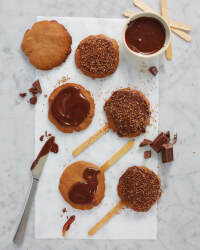 Recipe Information
Ingredients
1 200g Choceur Dark Chocolate
120g Salted Butter Softened
120g Caster Sugar
300g Plain Flour
2 Medium Eggs
1tsp Vanilla Essence
15g Cocoa Powder
For the Icing
150g Icing Sugar
35ml Boiling Water
Method
Pre-heat the oven to 190°C/375°F/Gas Mark 5.
Half fill a pan with water.
Check the water is at the right level by placing the heat proof bowl in and check it just touches the water, if not, add more or less and then place the bowl to one side.
Heat the water up until it begins to simmer and leave it on a low heat.
Place the heat proof bowl on the water.
Break the chocolate into small chunks and place in the bowl. Stir through until all has melted.
Cut up the softened butter into small chunks.
Put the butter, caster sugar and vanilla essence into a mixing bowl and beat until pale and creamy, using an electric whisk.
Add the eggs one at a time, whisking well in between.
Fold in the melted chocolate until thoroughly mixed.
Sift the flour and add to the mix – stir well to form a soft dough.
Leave on the side to cool for 10 minutes and then place in the fridge to cool for an additional 20 minutes.
Line 2 baking sheets with non-stick paper.
Place 1 tablespoon of mixture into the centre of your hand and roll into balls.
Put the balls on the paper, dampen the edges with water using a pastry brush.
Flatten the balls so the circumference meets 8cm.
Bake in the oven for 10/12 minutes.
After 10 minutes check they are golden brown, then remove and place on a wire tray to cool.
If you want to turn them into chocolate biscuit popsicles, simply push a lollipop stick in the biscuit as soon as it comes out of the oven.
For the Icing
Once the biscuits are cooled, sieve the icing sugar and cocoa together.
Next, add the water slowly, mixing at the same time, until a firm icing forms.
With a knife spread some icing over each biscuit.
Grate the remainder of the chocolate and add a dusting of icing sugar.