Christmas chocolate cornflake cakes. What's not to love? You've probably got all the ingredients in the cupboard already.
Chocolate Cornflake Christmas Wreaths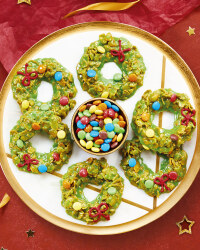 Recipe Information
Ingredients
100g Cornflakes
115g Unsalted Butter
280g Mini Marshmallows
2 tsp Green Food Colouring
170g White Chocolate
To decorate:
1 bag Choc Um's
20g White Chocolate
Dash of Red Food Colouring
Method
Combine the marshmallows and butter in a pan. Gently heat until melted.
Lower the heat slightly then add the chocolate and green food colouring, stirring until the chocolate has fully melted.
Add the cornflakes, stirring vigorously to ensure evenly coated.
Divide the mixture into 12 equal piles on a sheet of greaseproof paper.
Dampen your hands with a little cold water (to prevent sticking) and form 12 wreaths from the piles of mixture.
Decorate with the Choc Um's and leave to set completely.
When the wreaths have set, melt the white chocolate in the microwave and stir in the red food colouring.
Pour into a piping bag and pipe a small bow on each wreath.
Store in an airtight container and consume within 3 days.