The whole family will love these healthy kiwi pops with a chocolate-flavoured twist!
Chocolate Covered Frozen Kiwi Rounds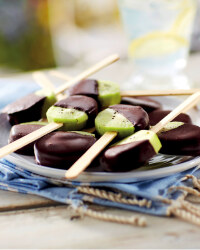 Recipe Information
Ingredients
6 Kiwi Fruit
100g Dark Chocolate
6 Wooden Lollipop Sticks
Find your ingredients online on Click & Collect or find your nearest store using our Store Finder.
Method
Peel the kiwis and take two thick slices from each - you can use the leftover kiwi tossed in some yoghurt for breakfast.
Place a wooden lollipop stick into the side of each of the kiwi fruit rounds.
Place these on some greaseproof paper and then into the freezer until frozen.
When the kiwi pops are frozen break up the chocolate and place into an oven proof bowl over a pan of boiling water to melt, making sure the bottom of the bowl doesn't touch the water.
Dip each kiwi pop in the melted chocolate and put straight back into the freezer to harden before serving.