Let it flow, let it flow, let it flow
Christmas is here and it's time to celebrate. You've prepped the food, decorated the house and wrapped every gift. Now it's time for the drinks. Across this page you'll find inspiration for every party, bash and get-together you could possibly have over this festive period. There's award-winning bottles, cocktail recipes and smart tips to keep the bubbles flowing from Christmas Eve to New Year's Day.
Party bubbles

Choose from award-winning Champagnes, Prosecco, Cava and the finest sparkling wines. Buy in store or order online starting at just 6 bottles and get free home delivery on everything.

1. The right temperature
To chill Champagne to its ideal temperature, leave it in the fridge for 2 hours. Or fill a bucket with ice and one-thirds water and leave for 15-20 minutes.
2. The right glass
The best glass for Champagne is actually a white wine glass. While a flute will showcase the bubbles, a larger wine glass will reveal a greater depth of flavour.
3. Pouring
Pour at an angle so the Champagne hits the side of the glass. It produces a better aroma and taste and creates more bubbles.
4. Love the bubbles
Champagne and other sparkling wines will lose their fizz within 4-5 hours. The more times you open the bottle, the faster it goes flat.
5. Amazing, but true...
Finally, if your fizz is flat, drop a raisin into your glass. The carbon dioxide which creates the bubbles will stick to the raisin's ridges then release it back into the glass, creating new bubbles. Try it!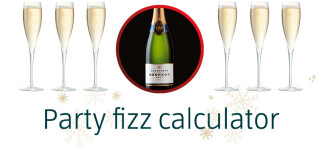 How much will you need?
Expecting a crowd? Use our fizz calculator to work out how many bottles you'll need. Or why not create a talking point with one of our super-sized Magnums and Jeroboams, available in store and online this Christmas.
A standard bottle = 6 glasses
A Magnum bottle = 12 glasses
A Jeroboam bottle = 24 glasses
Champagne cocktails
Add a little festive twist to your fizz with these deliciously simple cocktail recipes.
Use up any leftover fizz in food as you would with wine. It makes a delicious addition to a sauce.