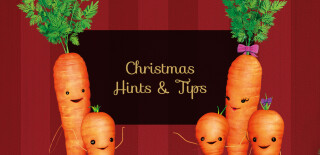 Ideas and inspiration for an amazing Christmas
Kevin and Katie can't wait to make your Christmas even more amazing with hints and tips on all things festive, including food and home decorations. Find out all their great ideas below.
Amazing food inspiration
A delicious Christmas dinner is what we all look forward to, but there are amazing ways to improve even the best served meal. Start with our tasty tips and inspiration for sides, cheeseboards and desserts.
Clever Christmas ideas for decorating your home
Little touches can go along way when it comes to decorating for Christmas. Check out our simple suggestions here and don't be afraid to add your own festive features to your tree, your table setting or your gifts.
Simple serving suggestions
You might think that serving drinks at Christmas is as easy as popping the cork and pouring, but take a look at our simple hints and tips to see how you can improve your beer and fizz beverages this festive season. You can even order your bottles today too.