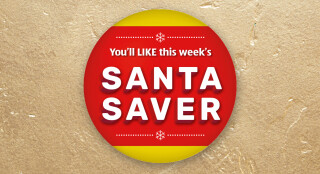 Santa Savers - new amazing offers every week
We're counting down to Christmas with our amazing Santa Saver Offers. So, if you're looking for great value on your favourite seasonal treats, look no further.
Every week in the lead-up to Christmas, we'll be helping you save on another amazing product from our Christmas collection. Check this week's offers below so you don't miss out!
Chocolate Advent
This week the countdown to Christmas begins with our brilliant Cadbury Advent Calendars. Why not get one for everyone in the family so you can all share the fun? Head in store to pick up yours today.
Chocoholic treats
Don't let anyone you love miss out on these much-loved festive favourites. Our Milk Chocolate Reindeer are in store now for only 39p. The perfect stocking filler.
Short and sweet
For this week's Santa Saver we've dropped the price of these delicious deep filled Holly Lane Mince Pies to only 39p. Make them one of your Christmas favourites.
Fizz the season
We're feeling the festive fizz in this week's Santa Savers. Pick up a great value bottle of Prosecco or Champagne in store today.
Festive spirits
Make sure everyone has the chance to get in the Christmas spirit with Santa's amazing savers on Whisky, Gin, Vodka and Irish Cream. Pick up a bottle in store or order online today.
Amazing turkey
It's time for turkey in this week's Christmas savers. Thanks to our great value range of fresh British whole turkeys, we've made Christmas even more affordable for every family.
Fresh in this season
Thanks to our famous Super 6 offers there's lots of extra helpful value in store to help everyone enjoy the best of the season. Don't miss all our Christmas dinner veg this week. And all at amazing Aldi prices.