Classic whisky cocktail with a twist– garnished with cranberries, clementine and rosemary.
Christmas Old Fashioned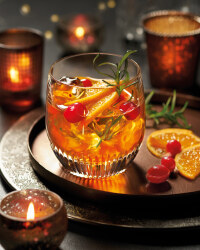 Recipe Information
Ingredients
60ml Highland Earl Scotch Whisky
20g Smooth Cranberry Sauce
Pinch of Soft Brown Sugar
Juice x ½ Clementine
Fresh Cranberries, slice of Clementine and a sprig of Rosemary
Ice
Method
Put the cranberry sauce, whisky, clementine juice and brown sugar into a small bowl and, with a wooden spoon, muddle the ingredients together.
Fill a whisky tumbler with some ice. Pour over the old fashioned, decorate with some cranberries, a clementine slice and a sprig of rosemary and serve.