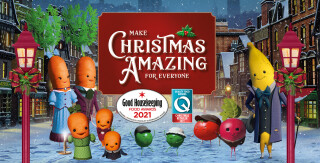 Aldi Christmas has come again!
Your award-winning Aldi is making Christmas amazing for everyone with quality family feasts, world-class wines and so much more. And it's all available at prices you won't believe! So start your plans here and discover everything your family needs for a festive season filled with the best of British and beyond.
A Christmas Carrot by Charles Chickens
Take a step back into Christmas past as Kevin, Katie and the kids bring a classic tale to life with the help of their new friends.
The Amazing Christmas Feast
Whether you like all the classic Christmas dishes or you're excited for something different this year, you'll find everything in your local Aldi. Take your first look at the mouthwatering line up below and discover traditional British turkeys, vegan centrepieces, delicious desserts and so much more.
Working with Neighbourly at Christmas
Since 2019 we've partnered with Neighbourly to deliver surplus foods and goods from Aldi stores to local non-profit organisations across the UK. This Christmas, we're working with Marcus Rashford to spread the message even further and deliver over 2 million meals to help underprivileged people in breakfast clubs, soup kitchens and more. Find out more today.
Christmas all wrapped up!
Aldi is the perfect place for stocking fillers, gift ideas and hamper inspiration. Start planning amazing surprises for everyone in your family with our selection now.
Santa's little helpers
We've had our best minds working all year on Christmas tips just for you. From homemade gifts and hosting, to recipe ideas and shopping smarter, we're here to help you at every stage of the season.
You could win an incredible £5,000 or £10,000 cash prize this Christmas

The Taste Kitchen brings together the most amazing recipes to inspire delicious dishes in homes across Britain. Discover our library of tutorials and explore our full cookbook for more tasty ideas.