Succulent and zesty chicken breast, served on a delicious bed of salad with walnut pieces and drizzled in olive oil.
Citrus Chicken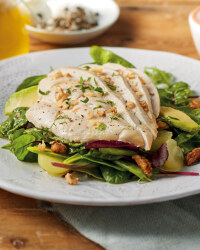 Recipe Information
Ingredients
4 x Ashfield chicken breasts
1 lemon
½ orange
½ grapefruit
2 tbsp Solesta olive oil
Freshly ground salt and black pepper
1 x bag mixed salad leaves
1 large avocado
150g mangetout, halved lengthways
120g green grapes, halved
60g walnut pieces
3tsp olive oil
Method
Arrange the chicken breasts in an ovenproof dish.
Slice ½ of the lemon, orange and grapefruit and place on top of the chicken.
Drizzle over the olive oil and add a few twists of salt and black pepper.
Roast for around 35mins, until the juices run clear.
Meanwhile prepare the salad.
Tip the leaves onto a serving platter or divide between 4 plates.
Halve the avocado, remove the stone and then use a dessertspoon to remove the flesh.
Slice and add to the leaves along with the mange tout and grapes.
Place the walnuts in a dry pan over a low heat and cook until just starting to toast, taking care not to let them burn. Allow to cool.
Remove the cooked chicken from the dish, slice and arrange on top of the salad.
Sprinkle over the walnuts.
To make a dressing whisk together the remaining olive oil and a good squeeze of lemon juice (from the remaining half).
Season to taste.
Drizzle over the salad and serve immediately.