Crispy, tasty and wonderfully versatile. These pancakes are a bona fide classic.
Classic Pancakes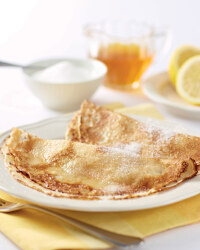 Recipe Information
Ingredients
100g The Pantry Plain Flour
1 Medium Egg
300ml Semi Skimmed Milk
Pinch of Salt
Find your ingredients online on Click & Collect or find your nearest store using our Store Finder.
Method
Beat the egg into the milk along with the salt.
Sift the flour into a bowl, make a well in the centre of the flour and slowly whisk in the milk and egg mixture until the mixture is smooth.
Allow to settle for 20 minutes.
Heat a little oil or butter in a medium frying pan.
Pour enough batter in just to cover the base, cook on a medium heat for 30 seconds until browned, flip and cook the other side.
Repeat until all the batter is used.
The batter will keep cling filmed in the fridge for 2 days, just whisk before using.
The pancakes can be made in advance, kept in the fridge for 2 days and reheated in a warm oven, wrapped in tin foil.