Keep calm and curry on with this budget friendly family favourite.
Coconut Beef Curry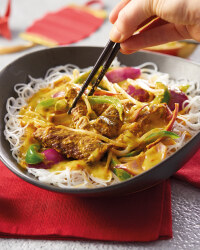 Recipe Information
Ingredients
800g Rump Steaks
2 x Red Onions
1 x Green Pepper
300g Rice Noodles
300g Bean Sprouts
60ml Olive Oil with Garlic
2 x 175ml Coconut and Lemon Grass Stir Fry Sauce
1 x heaped tsp Curry Powder
30ml Soy Sauce
8g fresh Coriander, chopped
Method
Cut the rump steaks into strips and peel and slice the red onions into small wedges. Slice the pepper into strips, removing any white pith or seeds.
Heat the oil in a wok and stir fry the steak, sliced peppers and onions for about 10 minutes. Add the bean sprouts, curry powder, soy sauce, and coconut and lemon grass sauce.
Cook for an additional 5 minutes until heated through. Meanwhile, cook the rice noodles as per instructions on the pack.
Serve the stir fry with the rice noodles and top with the chopped coriander.