Whipped coconut and rich cherries were simply made for each other. Just add sunshine!
Coconut Cherry Fool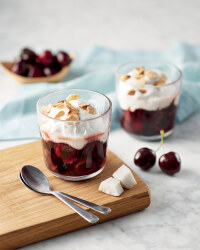 Recipe Information
Ingredients
200g Cherries
150g Specially Selected Maple Syrup
1 tsp Madagascan Vanilla Extract
2 x 400ml tins Full Fat Coconut Milk
2 tbsp Flaked Almonds
Method
Halve and de-stone the cherries, reserving 4 for decoration.
Place the maple syrup into a saucepan and bring to the boil.
Once boiling, add the cherries and turn off the heat.
Allow the cherries to steep in the syrup until cool.
Place both cans of coconut milk into a large mixing bowl.
Add the vanilla extract. Whisk until smooth and thick.
Strain the cherries, reserving the syrup.
Divide the cherries between 4 tumblers.
Spoon the whipped coconut over the top.
Place in the fridge to set for 3 hours.
Place the almonds into a frying pan, heat gently until golden and toasted then allow to cool.
Top the cherries and whipped coconut with the cherry maple syrup, scatter over the almonds and garnish with a whole cherry just before serving.