Baked cod salad with fresh mango chunks, cherry tomatoes and sweet potato fries.
Cod and Sweet Potato with Mango Salad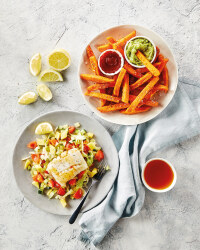 Recipe Information
Ingredients
500g Fresh Cod Fillets
½ a head of Iceberg Lettuce
1 Mango
200g Cherry Tomatoes
½ Cucumber
½ Lemon
80ml Olive Oil
½ tsp Paprika
Black Pepper
Method
Pre-heat the oven to 200oC/Gas Mark 6.
Bake the sweet potatoes in the oven and the fish per their instructions on the pack.
Cut the flesh from the mango and chop finely. Shred the lettuce and chop the cucumber into small chunks. Chop the cherry tomatoes into quarters and then put all of the above into a salad bowl.
Mix the olive oil with the juice from the half lemon, season with some black pepper and the paprika. Toss the salad and dressing together, then serve the cod alongside the fries and the tossed salad.