Homemade cookies and cream filling rolled and sliced just like sushi.
Cookies & Cream Sushi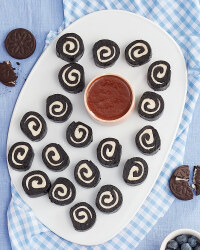 Recipe Information
Ingredients
Biscuit Sushi
300g Cookies 'n' Cream Biscuits
60ml Milk
Chocolate Dipping Sauce
50g 70% Dark Chocolate
120ml Double Cream
Baking paper
Clingfilm
Method
Separate the biscuits and filling between 2 bowls.
Place the biscuits into a food processor and blitz into crumbs.
Add the milk to the biscuit crumbs and stir to make a smooth, thick paste.
Spread the biscuit paste onto a piece of baking paper and use a rolling pin to roll the mixture out to the thickness of a pound coin.
Stir the filling until smooth then carefully spread a thin layer over the biscuit layer.
Gently roll up the biscuit mixture, peeling back the baking paper as you go, until you have a cookie sushi roll, then wrap in clingfilm and leave in the fridge.
In the meantime, gently heat the chocolate in the microwave until melted, then add the double cream and stir until smooth and glossy.
When ready to serve, warm the sauce in the microwave for a few seconds and slice the sushi.
Serve the warm chocolate dipping sauce alongside the cookies & cream sushi.