These courgette burgers make a delicious and healthy alternative.
Courgette Burgers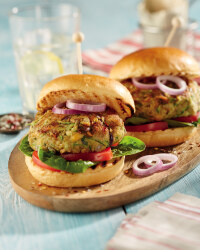 Recipe Information
Ingredients
2 Courgettes
1 small Carrot
1 medium Red Onion
1 x 400g tin Sweet Harvest Chickpeas
2 cloves Garlic, peeled and finely chopped
6g fresh Parsley, chopped
1 tsp Stonemill Paprika
15ml Specially Selected Olive Oil
40ml Sunflower Oil
100g Grandessa Crunchy Peanut Butter
2 slices Village Bakery White Bread, chopped into small cubes
1 x 4 pack Specially Selected Brioche Buns
4 slices Smoky Cheddar Cheese
Little Gem Lettuce Leaves, sliced Tomatoes and Red Onion rings, to serve
Method
Peel and grate the carrot.
Wipe the courgettes and grate.
Peel and chop the onion finely. Sauté the onion in the olive oil in a large saucepan for a few minutes until transparent and cooked but not browned.
Add the chopped garlic and cook for a further minute.
Now add the grated carrot and courgette and cook until just softened.
Put the drained chickpeas into a food processor along with the parsley, peanut butter, chopped bread and paprika, then mix to a paste.
In a bowl, add the grated vegetables and onions with the chickpea purée, season with some salt and black pepper and mix to combine.
Divide the mixture into 4 rounds, then flatten to make 4 patties.
Toast the burger buns on the cut side.
Sauté the burgers in the sunflower oil in a saucepan for about 3 to 4 minutes each side.
Serve in the toasted burger buns with salad and top with a slice of smoky cheddar.