We're here for you
Read the latest update from our CEO, Giles Hurley
Emergency Service Update
As of Sunday 29th March, we are introducing a dedicated browsing time solely for Emergency Workers (NHS, Police and Fire Service) 30 minutes prior to opening. Eligible customers will be able to take priority at checkouts when they open.
Entry to Aldi stores during this time will be granted with relevant ID only.
COVID-19 Online Order & Delivery Update
Due to unprecedented demand, we have made some changes to online orders and our usual delivery services. We have extended our delivery time frame for all deliveries to 3 to 10 working days.
Thank you to our staff and suppliers
You are all doing a vital job in feeding the Nation. Thank you for your continued patience and co-operation during these unprecedented times. If we continue to work together, supporting each other and finding solutions, we will continue to face into this situation and be able to come through it.
To thank you we will provide all our store and distribution staff with a 10% bonus on hours worked. This is effective from 9th March 2020 until the end of April 2020 and will be reviewed on a monthly basis.
As part of our ongoing support for small suppliers, we will reduce payment terms so that any supplier with a turnover of less than £1m will now be paid immediately. This will benefit over 1,000 Aldi suppliers. .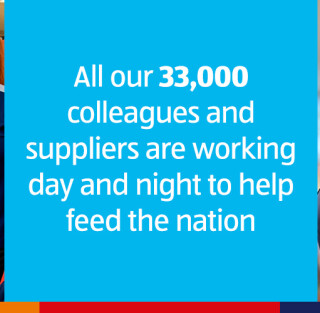 Product Availability/ Stock Reminder
All our stores remain open and continue to serve our valued customers. We have good product availability and our incredible colleagues are working tirelessly to restock and replenish shelves as quickly as they can. As we have seen an unprecedented demand across our range, we will be limiting customer purchases to four units on all products and two per customer on nappy and baby products to ensure all of our customers have an opportunity to purchase them.
The overwhelming majority of our customers have been very patient and understanding as we do our best to serve them at this time. However, we will not tolerate any threatening or violent behaviour. Anyone who is aggressive in any way to our colleagues will be asked to leave immediately.
Social distancing in stores
While our stores remain open, the health and safety of our colleagues and customers is paramount, that's why we are implementing the following steps to encourage social distancing.
How to keep the kids entertained
If you're looking for inspiration on how to entertain the kids at home, take a look at Aldi's Activities page. From cooking and crafts, to games, quizzes and family time, we've got bags of easy and affordable ideas to keep everyone happy and active.