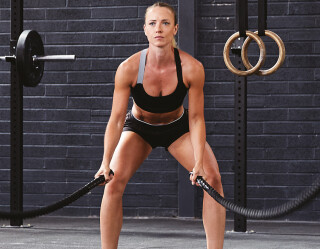 Gear up for cross train
Don't miss our range of high-quality, affordable cross train equipment. From battle ropes and slam balls to cross train clothing and cross train accessories, our affordable cross train range will help you get the workout you want. Order online from Sunday 9 September and buy instore from Sunday 16 September.
Full body workout

Boost your endurance, coordination and strength with cross train slam balls and black battle ropes. Perfect for a full body workout, this great value equipment can help improve your physical condition and fitness level in no time.
Work it out!

It's quality clothing designed for tough workouts. Cross train bras are designed to stretch with you for maximum comfort and cross train shorts have a 2-in-1 combination of lightweight outer and stretchable inner shorts.
Cross train gear

For the freedom of movement you need from your workout, choose from a range including our soft stretch fabric sports jacket and lightweight stretch tops with mesh inserts and reflective detail. We've also got a range of cross train socks.
What is cross training?
A varied strength and cardio workout that combines short bursts of different exercises such as push-ups, pull-ups, squats, running, weightlifting, gymnastics, slamballs, battle ropes and other movements. Perfect for your whole body. Suitable for all ages, it's a great way to keep fit and stay fit.
Workout recipes
Replenish your body with some of our delicious workout recipes. Like this strengthening Peanut Butter, Chocolate & Banana Smoothie, a healthy bowl of Courgetti with Creamy Prawns or a protein-boosting Honey & Ginger Chicken.