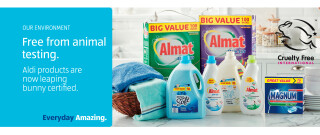 Going the extra mile for animals
We are proud to announce that from 1 January, 2018, our entire own-label household and beauty range has been accredited as cruelty free certified by leading animal protection organisation, Cruelty Free International.
We are proud to be 1 of only 4 UK retailers to have been awarded the gold standard leaping bunny certification across both our household and our health and beauty ranges.
Look out for the internationally-recognised leaping bunny logo and you'll know that no new animal tests were used in the development of that product.
"This is hugely important to us and our customers. It makes cruelty free certified products more accessible and affordable," confirmed Aldi UK's Managing Director of Corporate Responsibility, Oliver King.
"We congratulate Aldi for demonstrating its commitment to eliminating animal testing and helping customers make a cruelty free decision when purchasing cleaning products," added Cruelty Free International Chief Executive, Michelle Thew.
Of course, that's not all we do to support animal welfare. We are also the second largest retailer of RSPCA Assured products in the UK.
This gold standard certification strengthens our approach to being a responsible retailer committed to higher animal welfare, as shown by our commitment to RSPCA Assured products - we are the 2nd largest retailer of RSPCA Assured products in the UK.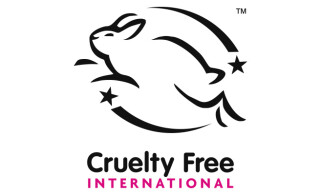 The cruelty free logo can already be seen on our detergent and cleaning products, but it will soon be added to packaging across many other items in-store too.