Crispy and crunchy multi-coloured salad with grilled prawns and a spicy chilli dressing.
Crunchy Asian Salad with Chilli & Peanut Prawns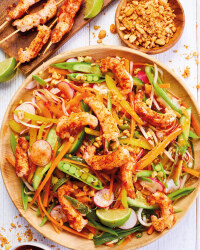 Recipe Information
Ingredients
250g pack Specially Selected Frozen Raw Argentinian Red Shrimps
200g Sugar Snap Peas
2 Spring Onions
1 Whole Fresh Sweetcorn
200g Baby Cucumbers
200g Beansprouts
200g Carrots
1 Yellow Pepper
150g Radish
80g Dry Roasted Peanuts
150ml Sweet Chilli Sauce
50ml Soy Sauce
Juice of 1 Lime
½ tsp Ground Coriander
10g Fresh Coriander, chopped
Black Pepper
Method
Defrost the shrimps, drain off any liquid and pat dry.
Mix the lime juice with the ground coriander and season with some black pepper.
Soak the shrimps in the lime juice while you make the salad.
Peel the carrots and cut into thin strips.
Thinly slice the peas.
Wipe and shred the spring onion.
Thinly slice the pepper, discarding seeds.
Cut the kernels off the corn.
Thinly slice the radish.
Chop or slice the cucumbers.
Chop the peanuts, leaving some whole.
Mix the chilli sauce with the soy sauce.
Barbecue, griddle or grill the shrimps for 5 minutes.
Assemble the salad and drizzle with the chilli dressing and chopped coriander.