A quick and simple dish that is sure to become a family favourite.
Cucina Chicken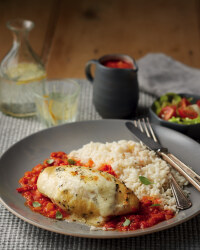 Recipe Information
Ingredients
2 300g packs Chicken Breast Fillets
½ Large Mild Onion - peeled
1 Red Pointed Pepper
1 250g pack Cocktail Vine Tomatoes
15ml The Pantry Lemon Juice
1 heaped teaspoon Stonemills Dried Basil
½ tsp Stonemills Garlic Granules
150ml water
1 tsp Stonemills Paprika
125g pack Cucina Mozzarella
240g Bilash Long Grain Rice
50ml Specially Selected Olive Oil
Sea Salt and Black pepper
Method
Preheat the oven to 200°C/400°F/Gas Mark 6.
Finley chop the onion.
Cut the pepper in half lengthways and remove any seeds and chop finely.
Take the tomatoes off the vine and cut into quarters.
Heat 25ml oil in a small saucepan then add the onion, peppers and tomato.
Stir for 5 minutes then add the water, basil, paprika, garlic and lemon juice, cover with a lid and cook for 15 minutes.
Meanwhile cut a slash down the centre of each chicken breast.
Drain the mozzarella then cut the cheese into 4 slices.
Stuff a slice of mozzarella into each chicken breast then put them onto a baking tray.
Drizzle over the remaining olive oil and season with some sea salt and black pepper then bake in the oven for 15 minutes.
Cook the rice as instructions on the pack.
Use a stick blender or food processor to whizz the sauce until blended but still a bit chunky.
Serve the chicken on a bed of rice alongside the sauce.