During the winter months it's good to have a few warming curry dishes up your sleeve
Curried Sea Bass with Turmeric Rice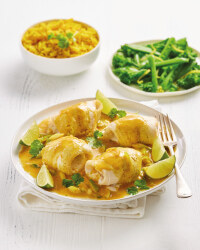 Recipe Information
Ingredients
2 packs Sea Bass Fillets
1 x 400ml tin Coconut Milk
50g Korma Spice Paste
½ tsp Ground Ginger
2 Spring Onions
1 tsp Paprika
150g Basmati Rice
400ml Boiling Water
½ tsp Turmeric
Black Pepper and Sea Salt
Fresh Coriander Leaves and a squeeze of fresh Lime Juice to garnish
Method
Pre-heat the oven to 200°C/400°F/Gas Mark 6.
With a sharp knife, skin the sea bass fillets and discard the skin.
Put the rice in a small saucepan with the turmeric, season with some salt and black pepper and pour over the boiling water. Cover the rice and cook on a low heat for 4 minutes. Turn off the heat, but don't take the lid off, allowing the rice to cook in the steam while you cook the fish.
Trim and wash the spring onions then slice thinly. Put the spring onion slices, coconut milk, korma spice paste, ground ginger and paprika into a small saucepan. Slowly bring to the boil, stirring as you cook.
Put the sea bass fillets into a small baking dish, curl them into a roll. Pour over the curry sauce and bake in the oven for 15 minutes.
Serve with some sugar snap peas and tender stem broccoli – steam them over some water with a generous squeeze of lime juice.
Garnish with chopped fresh coriander leaves.