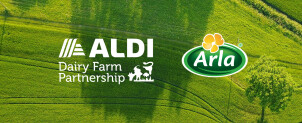 Supporting Britain's dairy farmers
We are proud to source 100% of our milk from British farms. In 2018, we launched our Aldi Dairy Farm Partnership, working with progressive dairy farmers across the UK. The Aldi Dairy Farm Partnership, in conjunction with the farmer-owned cooperative Arla Foods, is designed to support this dedicated group of dairy farmers to maintain high welfare standards whilst driving a more sustainable future for the dairy industry.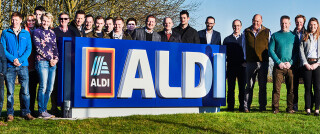 Arla UK 360
Each farm works hard to achieve Arla Uk's 360 programme, which in addition to Red Tractor standards, takes a holistic approach to standards across all aspects of Dairy farming including the environment, the people who work on the farms as well as the local community.
Open Farm Sunday 2019
We also work with our dairy farmers each year during Open Farm Sunday. This gives our customers a great chance to see all the incredible work that goes on around our UK farms. It's a great day out for all and this year we had the added support of Nile Wilson, Team GB Athlete and Olympic Bronze medallist.
We love milk
So you think milk is just a drink? It's so much more as it's the starting point for all other dairy products and is rich in nutrients. It is a natural source of calcium, which is needed for the maintenance of normal teeth and bones, and protein, which contributes to a growth in muscle mass. But did you know it also contains vitamin B2 which contributes to the reduction of tiredness, vitamin B12 which contributes to the normal function of the immune system, potassium which contributes to the maintenance of normal blood pressure and iodine which contributes to normal cognitive function. That's why we've redesigned the labels on some of our milk range, to make these benefits easy to understand. Look out for them next time you're in your local Aldi.