A much-loved favourite, it's always good to make sure there's rum in the cupboard for a cheeky Daiquiri.
Daquiri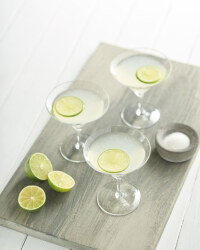 Recipe Information
Ingredients
60ml rum
20ml lime juice
2 tbsp sugar
Ice cubes
Lime to garnish
Method
Fill your cocktail glass with ice to chill.
In the cocktail shaker add the lime and sugar, stir together until the sugar dissolves.
Add ice and rum into the shaker and shake for about 30 seconds, to chill and dilute the mix.
Finally, strain into a glass and garnish with a slice of lime.