Mint chocolate gravy recipe for Sunday roasts. Tastes great with beef and lamb.
Dark Chocolate and Mint Sauce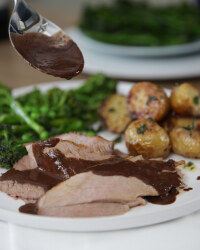 Recipe Information
Ingredients
50g Butter
1 x Leg of Lamb (to produce the dirty pan to deglaze)
1 x Large bunch Fresh Mint finely chopped
300ml Chicken Stock
1 x glass Red Wine
Large pinch Sea Salt 70g
(70%) Dark Chocolate
Method
Add the meat to a hot pan to add colour, add the butter and baste the meat until the pan has a glazed flavour and colour.
Take out the meat and add the red wine to the pan along with a good pinch of salt and the chocolate.
Drop the heat and let the chocolate melt, add the 300ml of chicken stock and turn the heat up until the sauce starts to bubble and reduce.
Once the sauce starts to thicken, add the finely chopped mint and stir. Let the sauce reduce by around half or until the sauce looks thick and glossy. Serve drizzled over the cooked (medium) lamb.