Delightfully indulgent dessert idea for chocolate lovers.
Death by Chocolate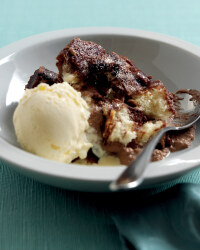 Recipe Information
Ingredients
200g marble cake cut into 2cm cubes
1 pint double cream
1 pint semi-skimmed milk
100g Moser Roth
85% dark chocolate, roughly chopped
4 free-range eggs
75g caster sugar
Luxury dairy vanilla ice cream
Find your ingredients online on Click & Collect or find your nearest store using our Store Finder.
Method
Pre-heat the oven to 160°C, gas mark 3.
Place the cubes of cake into an ovenproof square dish, roughly 24cm long by 4-5cm deep.
To make the custard, add the cream and milk to a saucepan and bring to the boil.
Meanwhile, place the chocolate into a bowl.
Once the cream and milk are boiling, carefully pour onto the broken chocolate and whisk well.
Place the eggs and sugar into a second bowl and whisk together.
Then pour on the hot chocolate, milk and cream mixture and strain well through a sieve.
Pour over the cubed cake.
Place the dish into a deep metal baking tray, then fill the baking tray with boiling water until halfway up the dish.
Lightly oil a piece of foil and cover the Death by Chocolate lightly, then carefully pop into the oven.
Cook for 35-40 minutes or until just set and wobbly.
Carefully remove from the oven and cool slightly.
Serve in deep bowls, with a large ball of luxury dairy vanilla ice cream.