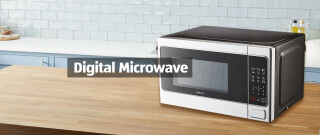 New Digital Microwave from Aldi
Upgrade your microwave to something a little sleeker. The new ALDI Digital Microwave is a great addition to any kitchen, and it's available for a limited time.
Whether you're heating up tasty leftovers or defrosting meat in time for your dinner, this multifunctional microwave has you covered. It boasts 10 power levels to make sure you cook your food perfectly, as well as six auto-cooking programmes and a handy defrost function. Choose from a silver or black microwave – either will look great on your kitchen worktop.
Microwave
Too busy studying to cook? No problem. Thanks to Aldi, you needn't settle for a basic budget microwave though. With so many amazing features usually found on more expensive machines, this Digital Microwave will see you from freshers to graduation.
SOLD OUT ONLINE
All the features you need, amazing Aldi value
There's no need to spend more on a new microwave – this has the spec you'd find on more expensive models at an incredible low price!
Microwave power approx. 800W

Our student microwave has plenty of power to cook food rapidly and evenly.
Capacity approx. 20L

Big enough to cook a student dinner, small enough to fit in your kitchen!
10 Microwave power levels

Lower power settings give you gentler cooking when you need it.
Defrost function

Defrost frozen food easily and safely in a matter of minutes.
LED display

Helps you see the programme mode and the cooking time remaining.
6 auto cooking programs

Pre-set programmes take the guesswork out of cooking specific foods.